Welcome to Cotswold Farm Park Holidays!
The perfect destination for families looking for a unique and memorable holiday experience in 2023.
Our farm park offers a range of affordable family holiday options, including luxury lodges, safari tents, camping pods, and pitches for tents and caravans.
Love camping here!! We stayed at the Cotswold Farm Park campsite in May half term and loved it so much so we had already booked for May 2024 before we left. We have also just returned for weekend. The site, location, farm, staff are all excellent. I hate being cold and it is particularly nice to have a shower and never feel cold whilst doing so. Facilities are kept very clean.
Fantastic camping site with many options for all Really wonderful stay here on our first time camping at the farm park. We enjoyed everything that was offer. Fantastic facilities - they have really thought of the finer details of what is needed when camping.
Lovely accomodation Fabulous couple of days spent at this park. Quality and cleanliness of accommodation (Exmoor Lodge) exceeded our expectations, and all around the experience was great. It's a pleasure to see how well kept the animals are.
Family friendly, clean and amazing value One of the best campsites we have visited. Very family friendly and the pitches were huge, soft and well maintained with water and electric. Was great using the farm park which again was great. Booking again.
Wonderful Family-friendly Weekend Break We stayed in a Safari Tent which was clean, comfortable and well-equipped. We particularly liked the deck area and BBQ and the shower and toilet facility is ideal. The camp is well-run and well-kept and has a great family-friendly atmosphere, it felt safe for the children to run around together.
Excellent Family all rounder. Caters for children of various ages and keeps them occupied, ours are 2 and 8 and they both had a great time. Excellent base to explore the Cotswolds or simply while away the time on site. Second visit and planning a third. Value for money for what's available.
Superb! A fantastic holiday for all the family. The site was clean and lots of facilities should you need them. The pitches were clearly marked and large enough for the children to play next to the caravan, even with an awning. It was very quiet in the evenings. We can't wait to return another year!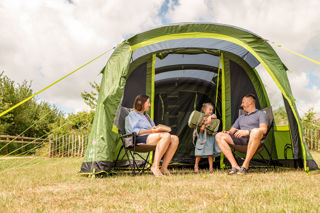 Can't find the answer you're looking for?
Get the clarity you need to ensure a seamless and enjoyable holiday experience for you and your loved ones.
Additional information and common queries are addressed on our FAQ's page.