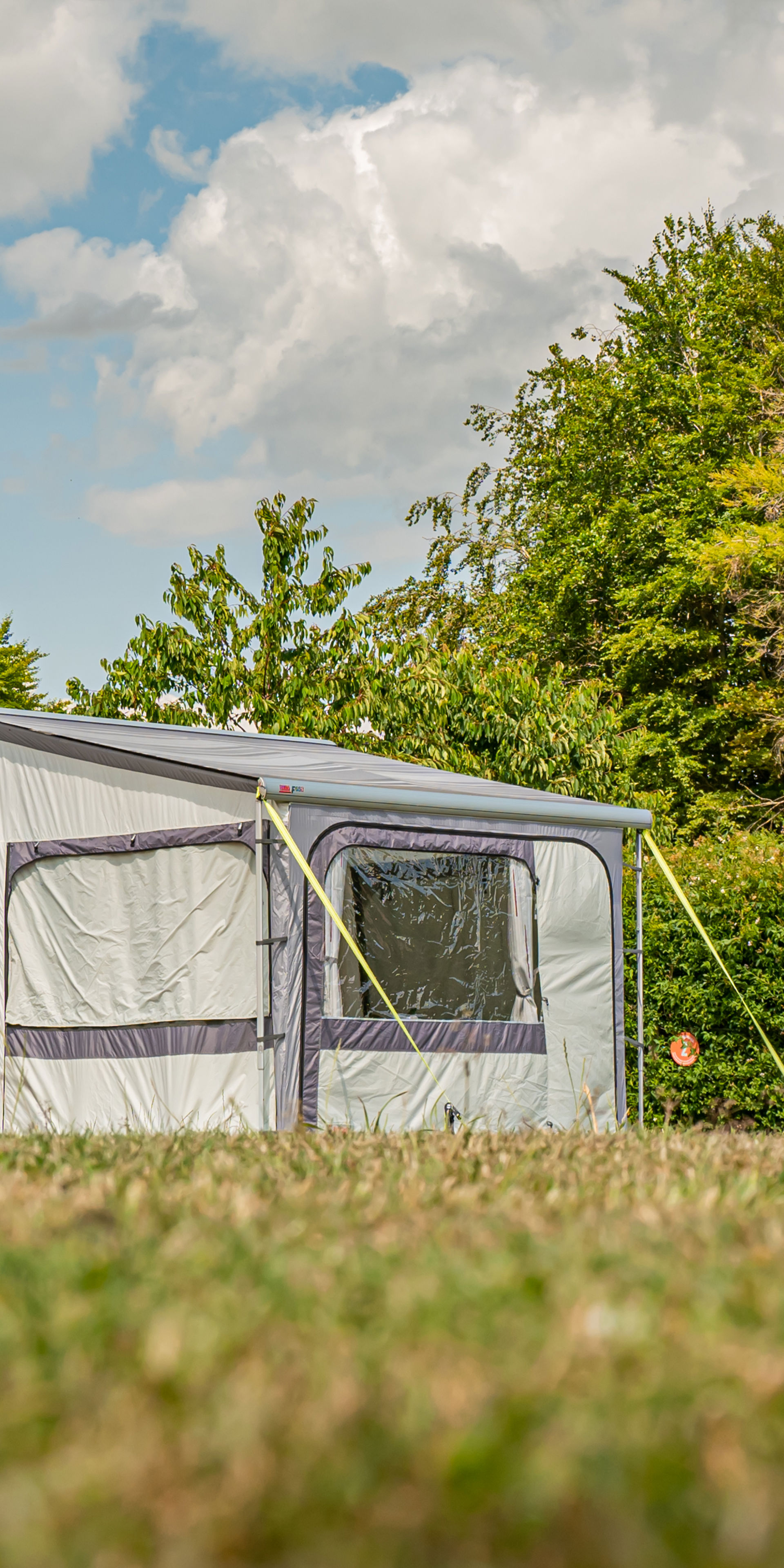 Touring & Camping in the heart of the Cotswolds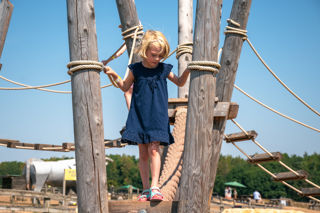 Free Farm Park Entry
As with all of our bookings, daytime Farm Park entry is included throughout your stay, from your day of arrival to your day of departure.
When checking in you will be issued with a guest pass which will be valid for the duration of your stay.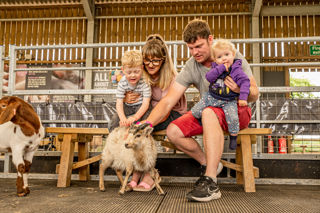 So much to do!
Have fun with our wide range of indoor and outdoor activities. We invite you to interact closely and meet over 50 breeds across 7 different species of British farm animals, including Golden Guernsey goats and Highland cattle.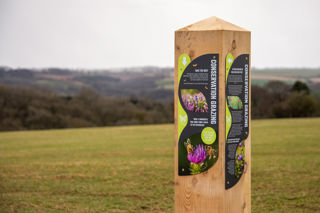 Stunning Local Walks
Discover the beauty of the Cotswold hills with an abundance of wildlife coming out of hibernation on our FREE Wildlife Walk.
Superb! A fantastic holiday for all the family. The site was clean and lots of facilities should you need them. The pitches were clearly marked and large enough for the children to play next to the caravan, even with an awning. It was very quiet in the evenings. We can't wait to return another year!
Excellent Family all rounder. Caters for children of various ages and keeps them occupied, ours are 2 and 8 and they both had a great time. Excellent base to explore the Cotswolds or simply while away the time on site. Second visit and planning a third. Value for money for what's available.
Family friendly, clean and amazing value One of the best campsites we have visited. Very family friendly and the pitches were huge, soft and well maintained with water and electric. Was great using the farm park which again was great. Booking again.
Lovely accomodation Fabulous couple of days spent at this park. Quality and cleanliness of accommodation (Exmoor Lodge) exceeded our expectations, and all around the experience was great. It's a pleasure to see how well kept the animals are.
Fantastic camping site with many options for all Really wonderful stay here on our first time camping at the farm park. We enjoyed everything that was offer. Fantastic facilities - they have really thought of the finer details of what is needed when camping.
Wonderful Family-friendly Weekend Break We stayed in a Safari Tent which was clean, comfortable and well-equipped. We particularly liked the deck area and BBQ and the shower and toilet facility is ideal. The camp is well-run and well-kept and has a great family-friendly atmosphere, it felt safe for the children to run around together.
Love camping here!! We stayed at the Cotswold Farm Park campsite in May half term and loved it so much so we had already booked for May 2024 before we left. We have also just returned for weekend. The site, location, farm, staff are all excellent. I hate being cold and it is particularly nice to have a shower and never feel cold whilst doing so. Facilities are kept very clean.
Roll out of your sleeping bag, take in the fresh country air and listen for the sizzle of breakfast on the go.
There's nothing more invigorating than an early morning stroll down quiet country lanes, with the sounds of the countryside waking up around you; the birdsong in the hedgerows and new born lambs calling to Mum.
And after a full animal feeding frenzy in our Farm Park, settle down on your pitch and watch the fiery sun set over the Windrush Valley. 
Add some of our own rare breed sausages to the grill and you're ready for the perfect evening spent camping and caravanning in the Cotswolds.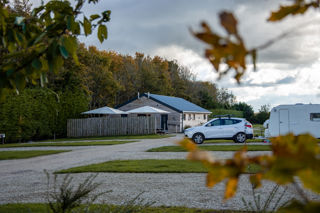 Premium Pitch
Perfect for Caravans/Motorhomes, with an awning on the grass. Half hard standing, half grass, both areas are approximately 10m x 5m. Each pitch has electricity, water and grey water wastage. Price includes 2 people and parking for 1 car.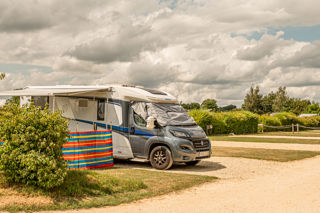 Availability Calendar
Select and green date to begin your booking.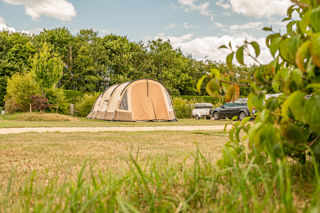 Grass Pitch with Electric
Ideal for Tents, Campervans and Trailer Tents, Approximately 10m x 10m. Price includes 2 people and parking for 1 car.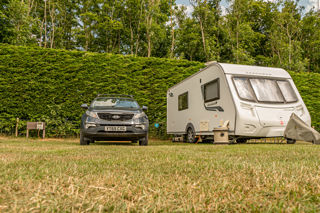 Availability Calendar
Select any green date to begin your booking.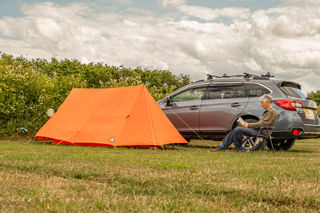 Grass Pitch
Ideal for Tents, Campervans and Trailer Tents, Approximately 10m x 10m. Price includes 2 people and parking for 1 car. (non-electric)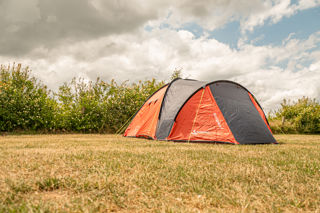 Availability Calendar
Select and green date to begin your booking.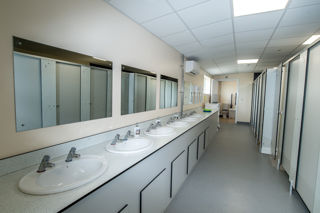 Modern Facilities
Our heated shower block ensures a refreshing and comfortable experience, allowing you to freshen up your vocal chords and start your day feeling invigorated.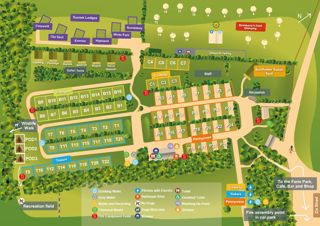 Handpick your Pitch
Choose the perfect spot for your holiday at Cotswold Farm Park by selecting your preferred spot on our campsite during the booking process. Enjoy peace of mind knowing that your desired location awaits.
Hurry - first come, first serve!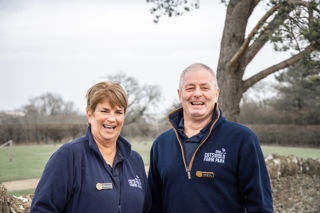 Friendly Faces
Upon arrival, check in at our welcoming Reception where a friendly member of our Holidays team will be ready to assist you.
They will guide you to your designated pitch or accommodation and ensure that any questions or queries you have about your stay are answered.
Communal Campers Kitchen

Cook and dine together! The kitchen is equipped with essential amenities such as a microwave, fridge, freezer, and toaster, making meal preparations a breeze.

Dedicated Laundry Room

Leave with a wardrobe as fresh as a daisy, ready to embark on your next adventure.

Plenty of Play Space

Adjacent to our 'Tinkers' pitches and at the entrance to our Wildlife Walk, you'll find a spacious recreation field.
Your Pitch will be available from 1pm on the first day, and checkout is at 11am on your day of departure.
Visit our Farm Park Shop and discover local products, crafted homewares, unique clothing and lots more!
Keep up to date with the latest news from our campsite team!