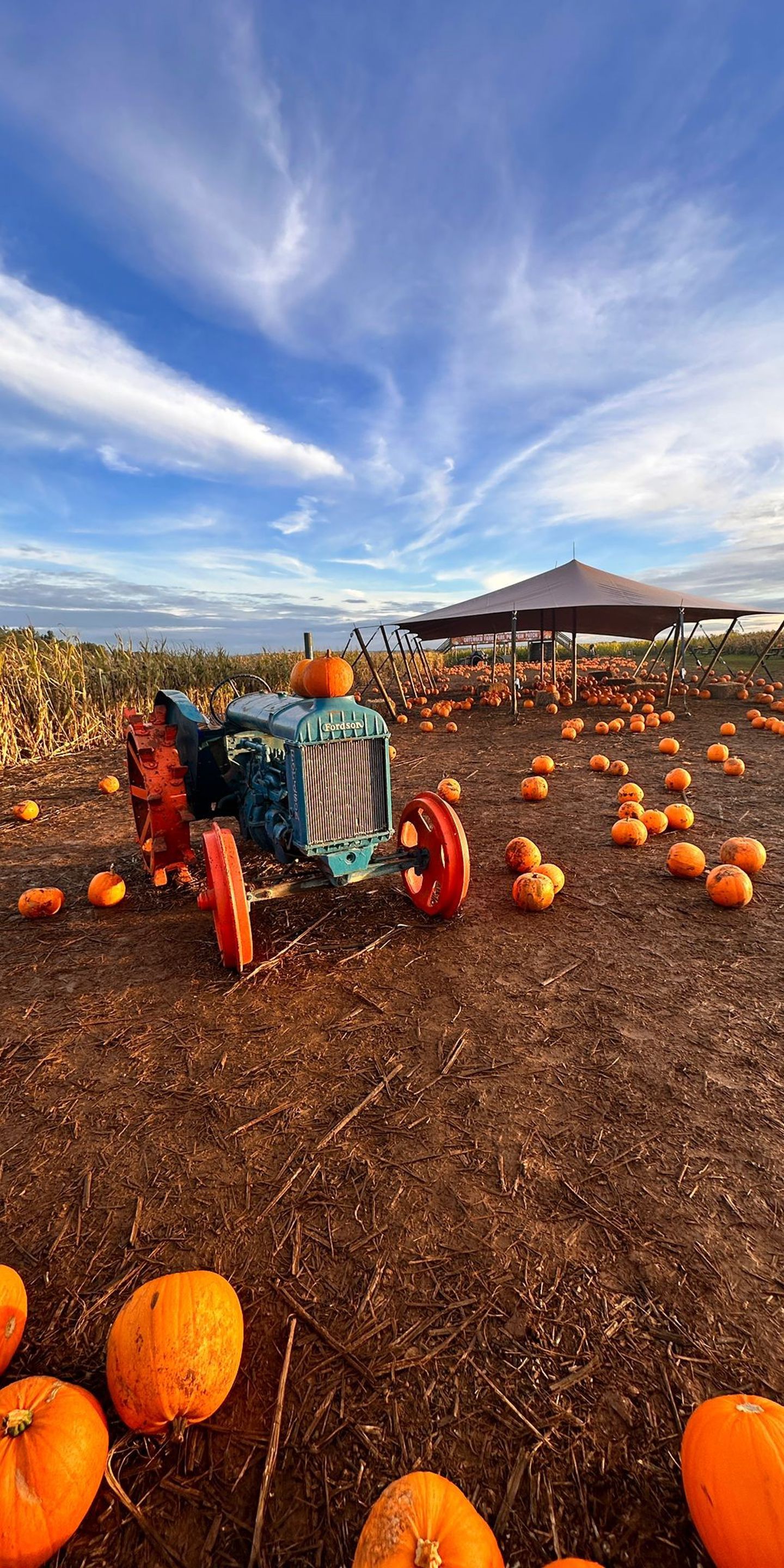 🍁Step into a world of autumn magic at our Pumpkin Patch 2023! 🍂
We're thrilled to invite you and your loved ones to a truly delightful experience amidst the vibrant autumnal hues.
Whether you're seeking the perfect pumpkin for carving, fantastic photo opportunities, or a fun-filled day out, we have something special in store for you...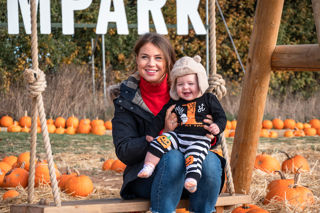 Capture Memories Amongst the Pumpkins 📸
Stroll through our charming patch, where thousands of bright orange carving pumpkins create a sea of adorable opportunities. 
Snatch up those picture-perfect moments, guaranteed to warm your heart and light up your social feeds.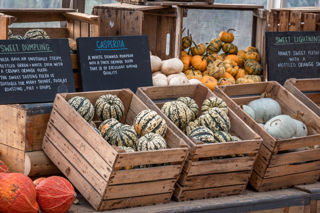 Gourd Enough to Eat 🎃
We've curated a whole gallery of pumpkin varieties, catering to both your creative cravings and taste buds.
Our supermarket of squash boasts a splendid variety of edible and ornamental pumpkins that will undoubtedly spark your culinary imagination.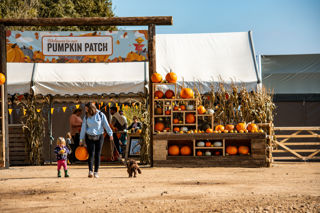 Tickets & Admission
Secure your spot at our awesomely autumnal event with our Pumpkin Patch Tickets, offering full access to the Patch, Maize Maze, carving activity, and more.
Enjoy additional perks with a delicious freshly baked Halloween cookie and a plump pumpkin* of choice all included in one price.
Plus, receive exclusive discounts at The Ox Shed Restaurant and shop.
Book online in advance to save money and guarantee your entry.
*up to 20cm, can be upgraded.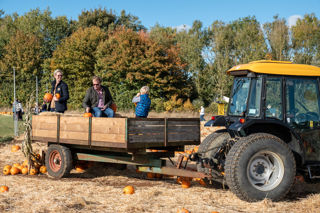 Wanting to go into the Farm Park too?
Purchase Farm Park tickets instead! All farm park guests can access the Pumpkin Patch providing it's on an event day. Please check opening days for the Pumpkin Patch here if unsure. Holidays guests also receive entry to the patch providing it's open during their stay.
Farm Park tickets only grant you access to the patch, but you will still have the opportunity to purchase pumpkins, add on the carving activity and seek out refreshments whilst you're there.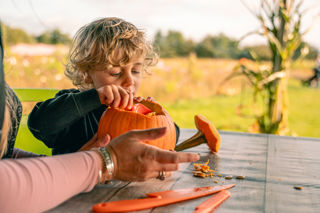 Carve Your Pumpkin Masterpiece 🔪
Dive into our carving zone! Carving kits and friendly assistents are at the ready, turning your chosen pumpkin into a work of art.
Members carve for free, and for a small fee of £3 per person, everyone can join in the carving fun.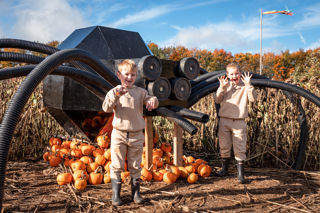 Don't get lost in the maize!
Navigate your way through the twists and turns of our spooky towering corn.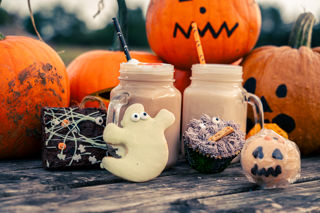 Trinkets, Treats and Yummy Eats
Take home more than just memories! From carving kits to hats, gloves, umbrellas, and scrumptious snacks, we've got you covered.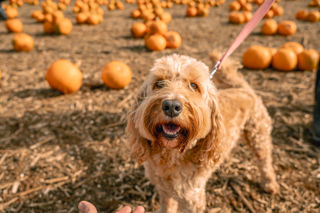 Dog-Friendly Day Out!
Bring your pooches along for the fun!
Our Pumpkin Patch is dog-friendly, complete with selfie stations for your canine companions. Treat your four-legged pals to a paw-some day out!
Treat them to snacks available at the food outlet, and remember to dispose of waste in the designated dog poo bin.
Indulge in the coziness of the season with a cup of Pumpkin Spiced latte from our coffee tent, alongside other hot beverages and delectable homemade cakes.

Discover a treasure trove of gifts and mementos at our shop. Whether you're looking for a reminder of your flower-filled experience or a special gift for someone, our shop has something for everyone.

We've made it easy to find your perfect pumpkin with our pricing based on size, ranging between £1 and our £10 Giant Whoppers!
Pumpkin Patch Tickets

Best Value

Entry to the Pumpkin Patch
Entry to the Maize Maze
Carving Activity
Halloween Cookie
Facepainting
Tons of Selfie Stations
Discount in the Ox Shed Shop
Discount in the Ox Shed Restaurant

Pumpkin Access Only

Entry to the Pumpkin Patch
Entry to the Maize Maze
Facepainting
Tons of Selfie Stations

Farm Park Tickets

Entry to the Pumpkin Patch
Entry to the Maize Maze
Facepainting
Tons of Selfie Stations
Entry to the Farm Park
Meet the Farmyard Animals
Tons of Play (indoor & outdoor)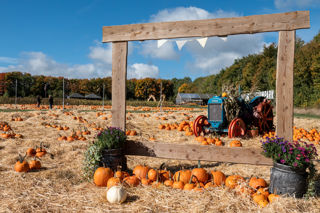 Is the Pumpkin Patch accessible?
We are committed to ensuring that the Pumpkin Patch at Cotswold Farm Park is accessible to all visitors.
The event takes place on flat ground, providing ease of movement for guests of all abilities.
Cut pathways have been implemented throughout the venue, ensuring smooth navigation and accessibility for wheelchairs, strollers, and individuals with mobility challenges.
We strive to create an inclusive and welcoming environment, allowing everyone to fully embrace the autumnal joy and participate in the various activities and attractions.
You can read all about Cotswold Farm Park's accessible features here. 
Additional Information
Can I visit the Pumpkin Patch without doing the carving? If you don't wish to purchase the full Pumpkin Patch experience, then our entry only tickets might be for you.
Toilet facilities are available in the Pumpkin Patch, as well as access to toilets in the Ox Shed Visitor Centre.
Make use of the designated dog poo bin located between the overflow car park and the woodland cut-through.
Why not extend your day by exploring the Wildlife Walk? It's a delightful 3-mile stroll around the beautiful boundaries of our working farm. 
Can we just come and buy Pumpkins? Yes you are very welcome to.  If you would just like to purchase pumpkins then you can pop into the tent to make your selection.
But I can just get a pumpkin much cheaper from The supermarket? You are more than welcome to do that if you would prefer. By purchasing pumpkins with us you are supporting a local farmer and business.
Do you grow your own pumpkins? We have tried in previous years; we have really shallow soil and that combined with being so high above sea level does not make ideal conditions to grow pumpkins.
We therefore grow the crops that suit our location and we work with a local farmer who grows our pumpkins for us.